3 Knife Trimmers
---
---
---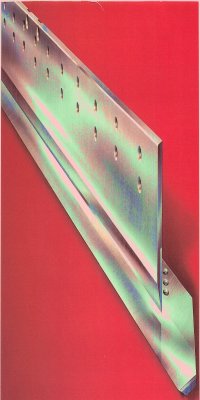 The Bindery business can be very demanding. Running the best quality knives gives you one less thing to worry about... The 3-knife trimmers we sell are all manufactured to the strictest tolerances and nothing could be better than a Tungsten Carbide cut. Known for it's edge retaining abilities; this material should be used only on fine quality papers.
We grind and supply knives for the following three knife trimmer machines:
Challenge * Consolidated International (Comeca) * Harris (see Macey) * Kolbus * Lawson * Macey * McCain * Muller Martini * National * Omni (see Mayce) * Perfecta (Royal Zenith) * Pivano * Polar * Prism * Pro Cut * Regent (see Lawson) * Seybold * Sheridan * Sperr & Lechner (Swiss Hydromat)/ Vijuk * Wohlengerg
Three grades of knives are commonly available, ranging from High-Speed Steel to Tungsten Carbide; depending on the quality of cut needed...
---
---
Copyright © 1999 J. Wenning Grinding & Supply Inc. Created On: 3/24/99

<!knife sharpening>